We often get asked "After my trial period is over, how do I get started?", so I thought I would share with you the steps!
Going live with Virtual Administrator's IT Essentials is easy, just follow the steps below.
As you get near the end of your trial, you will get some emails to remind you to sign up.   Don't wait to long, or you will lose access to the portal, and will have to contact us to re-enable your account.
Step 1:    From inside of IT Center, select the "Kaseya Portal" from the module bar on the left of the screen (Button #1).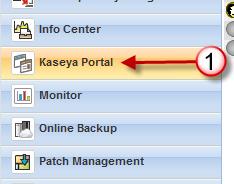 Step 2: From the Kaseya Portal menu, click on "BUY NOW" button under the "My Account" section.
Step 3 –   In the center of the screen you will see two options…  "Monthly" (#3) or " Yearly" (#4).   At this point you will need to decide if you want to pay month-to-month, or annually for your Kaseya services.    If you commit to Annually, you will not be able to change back until you get close to the end of your contract.   Annual billing can save you up to 25% over month-to-month, so there is some incentive!     Most of our partners choose Monthly so they can match expenses to income easily.
Step 4 –  After clicking one of the above, you will be presented with a table in which you can select the number of licenses for each service you wish to purchase.    Remember you only need to purchase what you use, you can repeat this process in the future to add licenses at any time.    There are a few areas that you need to select.
Monthly Kaseya Machine License –   Enter the number of agents that you wish to purchase (#5).   You MUST purchase AT LEAST as many as are deployed, so if you have deployed more then you are ready to purchase, exit out and go back and delete the old agents.   Also, be aware of any price breaks… Be sure to check my blog article on "How to Save money and even get some Free agents…" to make sure you get the best value.
Named System Administrator –  You get 5 administrators for free, so it is unlikely you need to add any here. (#6)  

Kaseya AntiVirus (KAV) and AntiMalware (KAM)  licenses –   If you are using or require any KAV or KAM licenses, please include those quantities here.  (#7)
To finish up,  accept the Terms and Conditions, and press "Continue", and then enter your credit card information.     Kaseya will keep this info on file and will automatically bill you every month.
Please let us know if you have any questions or problems.
PS.   If you want to check on the price breaks, just click the little icon next to the price: